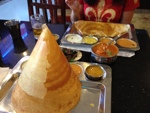 On a Sunday night we ventured to one of YAW's favorite places – Anjappar in Little India (76A Racecourse Road). Instead of taking to MRTs (subway), we decided to Taxi it which normally is a really easy thing but for some reason, this driver thought we were headed to his favorite Chinese restaurant and our drive was a few kilometers out of the way! The payment was adjusted accordingly – somewhat. This place was great! It is her 3rd or 4th time and we know we will go back again – soon! Great authentic food, a tad spicy for me, but the mango-yogurt drink really helps with the spice. The picture shows my Dosa with cheese cooked in. Very thin and curved into the cone shape. Y's is a very spicy version which I let her eat all on her own. We also had specialty mutton dish – charred small cubes also very spicy and also very addicting – along with a standard far Chicken Tikka Masala. I think some egg naan was thrown in as well for good measure. Top it off with a few bottles of Kingfisher Lager and it was a great end to a fast weekend.
We were there around 6:30 PM and there were plenty of spaces. By the time we left around 7:30ish, it was getting crowded.
Oh – and we did take the MRT home once we saw the station was only a few blocks from where we were eating! Much less….