It is Saturday and time to get up! Sleep in? Who does that when you can easily get up, go find some really comfy lounge chairs by the pool, and immediately pass right back out? The weather is the perfect combination of warm and no humidity – the weather I like to be out all day in just a swimsuit! By the way, yes, I did get some sunburn the 1st day, after 10 minutes, but not too bad. Although that was the last day of the 3 that I spent time in the direct sunlight! Large umbrellas were my saviors.
Besides, I did not want to look like the stereotypical Ang Mo lobster and I knew I actually don't glitter in the sun (for the Twilight tweenies).
Breakfast is a buffet style with everything you can want: local Indonesian food, a lot of Japanese choices, some bacon, eggs, etc. The best was the fresh fruit – they cut the mango for you and hand it over. Also, there were a lot of coconuts roaming around with straws growing out of the side. Coconuts on the island? (No big birds flew them here). This hotel especially caters to the Japanese client. A lot of the menus and some signs were in Japanese as well as English. You'll see why I mention this in a bit.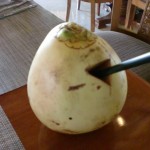 The morning was spent by the main pool (the photo from blog Part 1 with my feet!). It was very relaxing. The pool has an infinity edge which offers a great view of the sea. And it was not very crowded. The trick is to get there early, plop your stuff down on the loungers with a large umbrella, eat breakfast, a lot, then come back and pass out. Nice.
I don't remember as much, hardly any, of the Japanese I learned in college but when we were hanging out by the pool, there were four chattering girls next to us and I couldn't resist saying a few words to my wife in Japanese as we got up to leave. I figure maybe they wonder "how much did he understand?" Leave them hanging is my motto. I also noticed the Japanese folks like to take a ton of photos. And for some reason, 90% of the time they hold up two fingers in the form of the peace sign. Everyone does this, young, old, male, female. I have not researched why this is yet but it was very noticeable.
At one point as I was coming back to the lounger, I noticed the girl next to us had setup a tripod with her high-end camera aiming toward the infinity edge of the pool. At least that is what I thought she was aiming at until she sat down, faced the camera, starting smiling, and began clicking the camera remotely. She setup the tripod to take pictures of herself with the pool in the background! Her boyfriend was asleep – no help there. Awesome. This is tourism at its best.
In the afternoon, we both went for a Balinese massage at the resort's spa, which is rated one of the best in Asia. It was really good! It hurt though. Should it? We went to separate rooms (been there, done that for the couple's massage), me with my very young female masseuse and YAW with the older one. Figured maybe it would be the other way around. Mine was maybe 5'2" tall.  This is important because when we walked in the room, I saw the height of the massage table (off to the side from the large bathtub and the footbath) and wondered how she would be able to apply pressure from above. Later on I found out she just climbs up on one side of the table and then can easily, and with great strength, press down to apply just the right amount of pain. She was really strong.
Of course this was after the footbath. That is the starting point. Interesting, as I don't think my feet have smelled like rose petals before. It was a very submissive position! YAW mentioned later she wondered if patting her masseuses' head would have been bad form?  I won't get into this massage stuff to0 deeply here. It was only my 5th ever and I am still trying to figure out the benefit. I felt relaxed but my calves hurt! After our massages, we lounged around in these outside pagodas at the spa.  We have decided we will build something similar in our backyard when we come back to the States. It was very cool.
I could regale you with how we wandered around, drank some ginger tea, etc. but let's skip to dinner. This was the best ever! When was the last time you had a table 20 feet above the water with a direct view of a sunset while small one-man fishing boats are heading out to sea for night fishing. The hotel has a seafood restaurant, the Kisik Bar, at the base of the cliff right above the ocean. We saw it the night before and of course made reservations for our Saturday night dinner.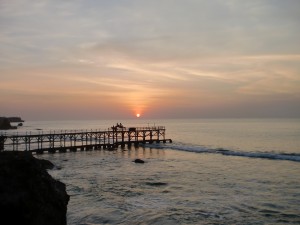 I cannot easily express here what this place was like – you have to experience it. The view above of the sunset is literally taken from our table without even getting up! When you are ready to order, you walk up to 2 counters and select your fish. The lobsters and crab are hanging out in large bowls in case you want to play catch-my-finger. There are about 3-4 different fresh fish (whole fish) and a lot of choices for prawns, oysters, etc.
The food was fantastic and very fresh. Six oysters was 180,000 rupiah (roughly $18 US) and, according to YAW, delicious. Me, I have had oysters once and only once. Done. We went through oysters, giant skewer (swordfish, shrimp, squid), jumbo prawns, and red snapper. Since alcohol is cheaper here than in Singapore, we added in an Australian bottle of sparkling Shiraz from Naked Range (990,000). This seemed to be a relatively new idea, a sparkling Shiraz, and it was excellent! The dinner was finished off with an Indonesian pudding colored green and with Java on top. It was fantastic.  The entire dinner was about $250 US and we think it would have been almost double had we had the same items at home (when I say home now, I no longer mean the U.S. I guess!).
The trick is to reserve an outside table and get there about 30 minutes before sunset. That way you have a drink in hand and your seafood is cooking while you just watch the sun drop over the horizon. When you see how fast that little red ball drops, it is amazing we aren't spinning off the surface.
This by far ranks as one of the best dinners ever, if not the best! The combination of scenery, food, wait staff, my wife, scenery, my wife, all added up to make this one awesome dinner (and the parameters are not necessarily in the right order).  Maybe I should say it was the best outdoor dinner ever only because I really miss a bone-in filet from Mastro's in Costa Mesa (or South Coast Metro as YAW likes to say).
I have to give recognition to our waiter Pande. He was attentive and funny. All of the staff were great. We even passed some the next day and they said hello to us by name! As we left the restaurant, we booked the same table for Sunday night too. "Yes, of course Mr. Watson!" Ah nice… (usually they always said Ms. Watson since the reservation for the resort was in YAW's name).
After a walk around the resort to help aid in the digestion of so much seafood, we of course called it a night. That's all you get for today! Ciao.