I better finish this article off as I have other new stuff to write about (vent, complain, in awe, etc.). Therefore I will make Part 3 relatively short just to cover the highlights you need to know if you would like to spend three relaxing, sun-filled (albeit umbrella covered) days doing as little as possible. No, we never ventured off the grounds to see the rest of the big island that is Bali. We decided next trip, we may stay on the volcano side to see more of the island and so I can take a snorkeling trip!
I already wrote about the Saturday fish dinner and this being "Sunday" in the plan, we ended up there again. It was just as good a meal, an even better sunset since there was no cloud cover, and the same great wait staff. The only drawback was the table of 12 Aussies talking it up at the table behind us and taking their pictures right next to us! But even so, you can't beat the view and the food. Just focus on that.
I do have to say there is a slight language barrier and we figured we caught 40-50% of what was being said to us in English. But I have become used to that because even with English as one of the official languages in Singapore, there are still heavy accents and grammar moved around. Think Yoda but with a heavy Asian accent. I am okay with this and I get better each week. I find it a fun challenge to figure out how much you understand of the entire conversation, the context, by focusing on the few words you do pick up. Most often, it is enough lah.
Sunday morning we walked down to the Rock Pool before breakfast. This is right next to the seafood restaurant and the island-wide famous Rock Bar, both at the bottom of the resort cliff. At night, there is a long line for the Rock Bar which uses an inclinator to get down the cliff.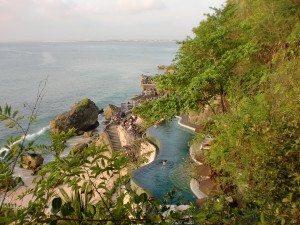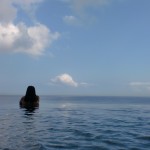 We thought you could drop your stuff off and go eat but because this pool has very limited space, you are only allowed to leave for 15 minutes before they kick-out your stuff.
Therefore we stayed and enjoyed the quiet, the fantastic view, and the lack of people until about 9:30 AM when it was time to go up and eat.
The pool has an infinity edge about 40 feet above the beach (12 meters for you local folks). We could prop our arms and head on that edge all day just to view the ocean and the occasional fishing boat trawling nearby.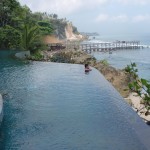 Since I will not really have a Part 4, 5, etc., I will say now we did the exact same thing on Monday morning before our flight home. The pool is so relaxing early in the morning. Then it is the perfect time to eat (plus the buffet closes at 10 AM). The buffet breakfast was just as good on Day 2 and 3.The local Indonesian dishes changed and it was great to try a variety each day. Of course each day included some Western fare on our plates – mainly 2 eggs over easy and a few strips of bacon. After all, if I can't have fun clogging my arteries while on vacation, then I am not following my American roots.
On Sunday, after our meal and some gestation time, we walked around the resort to find the other pool (near the villas) and look at all the wedding guests go by. There seemed to be 3 weddings each weekend day and the mix was quite interesting. They have specific buildings with special views set aside for the weddings.
Once we found the river pool, we lounged there for a few hours. There were only 3 other couples at the large pool. Part of that could be it appears to be hidden in the trees with no ocean view. It is higher up in the resort, therefore has a good breeze. The pool construction was really interesting. It had multiple levels and edges.
We found the 18-hole practice-your-putting golf course and although it looked fun, and we said let's try it, we never did. Too much fun doing very little. That was my motto and it worked out well.
Sunday night came and went and Monday it was time to leave. After our Rock Pool and buffet breakfast morning, we had a little wait time before checkout and the ride back to the airport. As we left, we once again meandered through a one-lane dirt road, merged into heavy scooter traffic, and passed the general populace on the way to the airport. Two minutes out of the resort gate we passed a small ramshackle hut where an elderly woman was just sitting down on her front steps in a skirt, and only a skirt. No top. You already have seen the jokes about very elderly women's chests therefore I do not have to elaborate. It was that exact stereotypical image, I kid you not!
The flight home, a whole 2.5 hours, was uneventful which is exactly what you want to hear about any plane flight. We were the only two in the exit row and that meant plenty of elbowroom and plenty of legroom. This was our first time flying into Singapore since we received our government IDs and we weren't really sure how that would work. I did know we no longer had to go into the long passport line for visitors. We went to the Resident line and asked the guard. He said this was the correct line but asked, since we were relatively new, if we had tried the automated line to the right. We said no but we shall!
You insert your passport into the slot and if it works, you go to the next kiosk for your thumbprint. And if that works, you go on through. It worked and this was super easy! It makes me want to fly again just to bypass the line. We had signed up for the same process at LAX about 6 months before we moved and only got to use it once or twice. Very handy but this time no background interviews with Customs.
That was the extend of our Bali trip and we are actively planning our next regional trip. I think Maldives will wait until December but there are so many options.  And at each, I shall keep my American-tuned eye open for some interesting things.