PS. Cafe has four locations in Singapore and it was highly recommended for Brunch. But being that we are sometimes a tad lazy on weekends, we stopped by at 2:00 PM on a Sunday afternoon one September weekend (yes, this is a late entry – I realized I am lacking on foodie details!). It was a 15 minute wait but you sit right by the dessert case and it is worth a look. I actually debated skipping right to some of the cakes and the apparently famous pineapple meringue that looks like a volcano! That is usual for me, by the way – skipping to dessert. Just ask someone who knows me. Ha!
Overall, the atmosphere is really good at this PS. Cafe and for the food, we would go again. (Our new rating – "go as often as money allows", "go again", "once was okay", "yuck" or something like that.)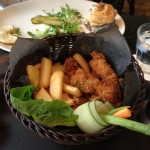 We split our food, which seems to be one of the handy Asian customs I am getting used to (unless steak is involved then watchyour fingers!). Our dishes were the chicken tenders with steak fries and a hamburger that is a mix of Waygu and sirloin. Since the tenders already had fries, we switched the side for the burger to a salad. The chicken tenders were some of the best we have ever had. The covering was lightly breaded and crispy but not greasy. The burger was okay and the salad – well it was salad! It was good but I still have a slight aversion to vegetables.. The aversion works well here in Singapore as I find most dishes don't come with a big portion of veggies if at all! Good for me!
Dessert was a shared carrot cake and a cappuccino. Yes, I shared the dessert buy in my, and the cake's, defense it was a big slice! It was pretty good. We will go back at some point and have more chicken tenders and try the volcano-looking meringue.