May 1st was Labour Day here in Singapore which means no labor, i.e. a day off! We take advantage of any time off therefore we took off the rest of the week and headed to Tokyo, Japan. This was my 2nd time there, the 1st being over 20 years ago. It was YAW's second time although her first trip several years ago was solely business which meant no touristy stuff. We decided to hop on a Tuesday night Singapore Airline's red-eye and arrive at Narita airport early Wednesday morning. Although the immigration line was a bit slow, getting through the airport was a breeze. Based on some pre-trip research, I paid for a car-service, Tokyo Airporter (http://www.tokyoairporter.com ).  The cost was 56,000 Yen round-trip (SGD$681 or USD$550) but considering taxis can cost close to $300 USD each way, it was well worth it. Plus, having a driver right there at the exit with our name was very handy. It is an hour into Tokyo in no traffic and up to two on a normal day – ideal nap time after the flight. Luckily unknown to us it was Golden Week in Japan. This is a weeklong holiday and there was little traffic. The weather was in the 60s F most days and that was great after 9 months of 88-90 degrees each day.
We arrived at the Capitol Hotel Tokyu at 10am. The hotel is in the heart of the government offices and part of the business district.  It is located above a subway station on the Ginza line (http://www.capitolhoteltokyu.com/en/index.html). The fact the hotel was so close to the subway was great!

When we checked in, they told us we could not have a room until 3pm. This was my only disappointment with the hotel. I expected at least a "come back around noon or 1pm and we'll see if we have a room" but that was not an option. We dropped off our luggage and ate at the hotel restaurant. I have to say the French toast was great but YAW's 'local' Japanese breakfast wasn't very good. We wandered off and headed towards the Emperor's Palace grounds, which is about a 15-minute walk. As we were walking, I was wondering why so many policemen were in the neighborhood. We found out the Prime Minister's residence is a block from the hotel and we were walking right by! This explained the large group of protestors a few days later.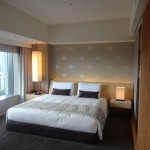 We eventually ended up in a nearby business district that had an indoor mall with a level full of restaurants. Our first local meal was a really good tempura bar. You sit down and order tempura piece by piece or a small set meal. They cook it right in front of you and it was really good. Although they had an English menu, that seemed to be the extent of English but our smattering of Japanese was enough. I probably should not say "Okane ga arimasen" as much as I like to! After eating, we wandered around the mall and then eventually made it back to the hotel to check-in and clean up. The room was very nice and very modern. The bathroom was great and the tub and shower had much more pressure than home. Plus, I did not have to turn on the wall switch and wait for 15 minutes for the hot water to heat up like  Singapore. I have to say it was the quietest hotel I have ever stayed in. It is very much a business hotel and this meant it was not very busy this week. At night, we never heard another guest and could not hear any traffic. Living in a high-rise, I think I am so used to some traffic or equipment noise that this seemed like resting in the middle of a remote mountain.
For dinner, we decided to walk to streets near the hotel. There were hundreds of eating options. Many multi-story buildings have a restaurant or two on each floor and it can be a challenge to pick! Because YAW reads and speaks Mandarin, it makes it easier when she can pick out words on the signboards. We ended up in a small basement restaurant that specialized in grilled beef. We were the first customers for dinner, which always seems a little strange, but it actually became busy while we were there. We picked a set meal that serves different cuts of Kobe beef (12,000 Yen each or $120 USD).

I may not be showing all the photos but we had cuts from the inside of the thigh, butt, back, core thigh, shoulder, tenderloin, sirloin, etc. The chef cooked the meat for us at our table since we were the first ones in and he could explain the cuts. He said the reason the meat is so marbled, other than feeding the cows beer, is the massage the cows receive each day. Some of the cuts were exceptional – the best I have had. They literally melt in your mouth. Our favorites in order from the best were the tenderloin, back, shoulder, and sirloin. The set meal comes with grilled vegetables and after the meats, a serving of shabu-shabu with more meat. We were so full! The multiple mugs of Kirin draft beer probably didn't help. Draft Kirin is the way to go! It tasted so good with the dishes.
Since our main goal was local Japanese food each day, we continued our culinary adventure the next day for lunch at a basement sushi restaurant, also a few blocks from the hotel and in the same area as dinner. I like sushi but admittedly eat only a few things. This time I had a set meal that included some items I actually tried, some for the first time. The one I struggled with was strings of "jelly", which is what YAW thought it was, but then I noticed the small eyes. I did eat some of the little fish but trying to eat the whole group in a seaweed roll was out. Our total for the two set meals was  $45 USD including two bottles of Sake! This was a great deal for fresh sushi and drinks. Again, just point to the items you want since this is not a big tourist hangout and there are no signs in English.

With fresh, albeit dead, fish in our bellies, we hopped the subway to Harajuku and the Meiji Shrine. The shrine is in a large park and it takes a while to walk to the actual shrine.  This is a big tourist spot and although it is worth visiting, we did a quick wander and then wandered right off!  We walked out the opposite side of the park to the north and eventually made our way back to Harajuku. On the way, we stopped off at The Deck Coffee and Pie. It's a small café hooked to a retail shop. They have a selection of a few fresh meat and fruit pies. No, they are not meat and fruit mixed; yes they are separate pies! The apple pie was good (I don't pass up desserts/sweets too often) although I would have preferred a crispier crust.
Once back in Harajuku, we found the street where the teens tend to shop. We hit up one of the small tourist shops to pick up local fun stuff.  They even had Pez candy dispensers! Eventually we made it to Shibuya with the high-priced stores such as Ralph Lauren, Gucci, and Louis Vuitton. It was not our destination but the day was nice and we just kept walking here and there. There are quite a few small streets and local shops in between the two extremes that are worth checking out if you walk the neighborhood. We rested for a bit, i.e. toilet, at the Omotesando mall. Because I had to take a work call while sitting there, YAW roamed around.
When she came back, she took me up to look at the top-level restaurant named Omotesando Ukai-tei. (http://www.ukai.co.jp). It has a very unusual design as a merchant house from the late 1800s. I did some quick research on Trip Advisor, which seems to be the Asia go-to review site, and found it came very highly rated. Since we were walk-ins, we made a reservation for an early dinner at 5:30 PM (it was 4:30 pm when we walked in!).  We went shopping to waste the hour, walking south on another street full of great local stores. Eventually we made it to dinner.

The setup is a half-circle counter where you have your own chef. We ordered a set meal that included the wine sampler for each dish. This meal included top quality steak, a prawn appetizer, cold pea soup, garlic rice, and dessert. The meat was great! Has your mom ever told you to chew your steak 50 times to help your digestion? You won't get anywhere close to 50 chews here. Maybe not even 20 with this really tender steak. It was another great meal! The restaurant is famous for serving abalone. We aren't sure if it was alive or dead but watching it squirm in the half-shell when the chef first puts it on the grill right in front of the couple next to us was very strange indeed. The chef grills it for a few minutes then covers it under a mountain of salt to cook.

After the meal, you are escorted to a sitting room that has a nice view of the city. You can select one dessert from a small list of about 5. I had the caramel pudding, a 38-year old recipe. Very similar to Flan. Of course the second phase is when the trolley rolls by loaded with mini-desserts – small pastries, chocolate covered almonds, flavored marshmallows, cookies, etc. I don't think the waiter realized I was serious when I said I'd like one of each. I toned it down a bit and had one of each from only half the cart. YAW tried the other half and that way we covered all the items! We work well as a team. One of the desserts was a pastry with fresh California blueberries. The waiter said the Japanese diners love CA blueberries. Now at least I know why those small containers in the store cost at least $12 SGD. Too popular!
That's the end of Part 1 because we are only to Thursday night! I don't want to show all the food on one page. Part 2 we'll cover our favorite 2-night-in-a-row stop for Shabu Shabu where Lady Gaga has spent a night or two indulging. In between the meals, there are vending machines everywhere therefore there is no lack of drinks and snacks! Want fries with that?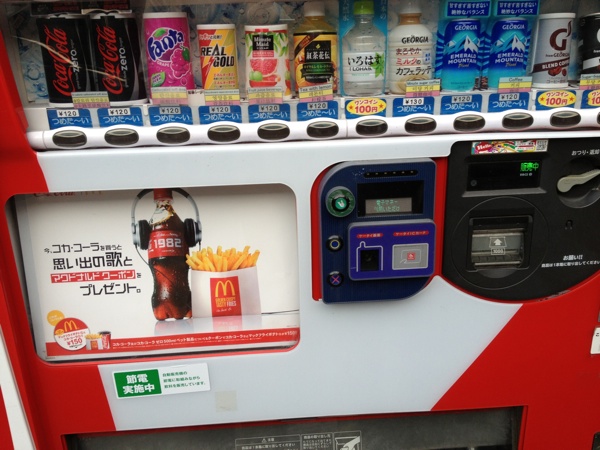 Our Part 1 Image Gallery!